one is redundant, the others; communication skill
1 A cunning linguist is an individual who is skilled at communicating and orally speaking
2 A cunning linguist is an individual who is skilled at communicating and oral
3 lesbian
Heteros who insult, assault, rape and murder LGBTQ2 and also hetero women, btw, are the ones who are phobic.
Not being attracted to is not the same as being a bigot.
this is phobia.
not dating people from other letter groups is not phobic.
https://www.pinknews.co.uk/2021/05/14/oregon-house-representatives-lgbt-gay-trans-panic-defence/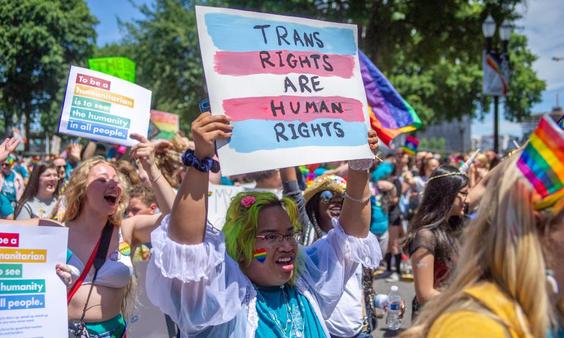 Ban on abhorrent gay and trans panic defence unanimously passed by OregonThe Oregon House of Representatives unanimously passed a measure that bans the gay and trans panic defence in legal proceedings.www.pinknews.co.uk
Hetero men who name called when refused dates are bad behaviour and any women who denies lesbians or any person a no on a date – which is a personal choice, and not a human rights issue – is part of the problem of dating.
to each person preference of desire and to the choice of sexual selection and intimate relations
Lesbians helped heterowomen get reproductive and workplace rights and then they went off and enjoyed those… then there was AIDs….. and now… this:
*article quotes*
However, our findings throw up several questions:
Who is on the wrong side of history when the GBT community operates a large-scale gaslighting of lesbians to accept the mantra that "trans women are women"; penises are deemed to be a female organ; and heterosexual intercourse is now redefined as a lesbian sexual practice?
Who is on the wrong side of history when the GBT community uncritically supports a population of transwomen who identify as lesbians to coerce lesbians into having sex with transwomen against their will?
Who is on the wrong side of history when lesbians' sexual boundaries are disrespected and publicly demonised as hateful by the very charities whose purpose it is to defend them?
Who are the GBT organisations protecting by refusing to engage with lesbians' very serious concerns?
Major gay, bisexual and trans organisations such as Stonewall and Pride in London should hang their heads in shame for ignoring our rights.
https://news.trust.org/item/20190412100802-6md1q/
Lesbians need to get the L out of the LGBT+ communityLesbians are being callednews.trust.org
stop demanding dating as a condition of human rights support
that has to go both ways and to deny a no is to deny rights
lesbians do not expect their lesbian partners to be pregant and if the partner is a transwoman, it is very foolish to expect a lesbian to be sad she cannot get a transwoman pregnant. when the pregancy risk is the other way.
lesbian and gay sex is not procreative sex and that is part of it's appeal and attraction.
https://slate.com/human-interest/2015/02/cisgender-lesbians-and-trans-women-how-to-mend-the-rift.html
Cisgender lesbians and trans women: How to mend the rift.In theory, our multifaceted, multilettered queer community is all about alliance, solidarity, and mutual support. Though we've seen advances in areas…slate.com
https://watermarkonline.com/tag/lesbian-erasure/
Lesbian Erasure Archives – Watermark Onlinewatermarkonline.com
Generational change is inevitable, healthy, and necessary to progress. What I am living through right now is a painful transitional moment in which some of those older lesbian institutions are still going strong, and seeking participation and funding, while a current generation of activists are distancing themselves from such events, or even demonstrating against them. Younger, queer activists were vocal in opposing the Michigan Womyn's Music Festival; right-wing religious groups once eager to shut the festival down had moved on to bigger targets. This dynamic—a next generation of feminists attacking earlier lesbian institutions and disparaging their participants as less evolved—is not unique to the 21st century or the United States; it is embedded in Jill Gardiner's powerful book From the Closet to the Screen, which describes a 1970–71 Gay Liberation Front "zap" against London's Gateways Club bar. As this generational shift grinds on, how should the most recent decades of cultural production be interpreted, understood, and preserved? How will we use the tools of history to examine something we know existed as an investigable community?
https://slate.com/human-interest/2016/12/disappearing-lesbians-and-the-need-to-preserve-dyke-culture.html
Disappearing lesbians and the need to preserve dyke culture.My generation of lesbian activists, who honed our identity politics and confronted racism and classism in the spaces of women's music events and…slate.com
dear bi, pan and trans women
sometimes bisexual is a portion of a woman's life and she later lesbians and maybe call me then, see if I am available.
sometimes a person is attracted to a person because they are unclear on their own self and what they are attracted to, that personality of a sexuality and gender person.
so when bisexual women end up with men or are a phase but are not a phase. it is as exhausting as men who say they are women and then dress like women and surgically mutilate their bodies. still not women and do not define lesbian words.
i am attracted to vagina and not interested in a penis or a reverse penis hole that lacks a gspot or cervix and a woman around it.
meanwhile. bisexual and pan women and transwomen are able to date each other, without lesbians having to date outside of our group preference arising from our individual choices and preferences.
I am a lesbian, the word is gender and sexuality in one, seeking the same expression in another lesbian.
Lesbian erasure is the tendency to ignore, remove, falsify, or reexplain evidence of lesbian women or relationships in history, academia, the news media, and other primary sources.
Lesbians may also be ignored within the LGBT community and their identity may not be acknowledged
attraction to someone is not done by debate or framework
it is a physical response and an emotional reaction to the personality
lesbians have no reason to be made to feel that they have to date any person, trans or not and no one should deny anyone a no
https://en.wikipedia.org/wiki/Lesbian_erasureLesbian erasure – Wikipediaen.wikipedia.org
women are being erased in the medial sphere and in LGBTQ
the words mean specific things and transwomen do not represent the women experience
transwomen are using the same male gaslighting behaviours and then accusing women of anger
when transwomen are getting women's awards and being positioned as role models
while complaining about the cotton ceiling and fetisizing lesbians
and using the hetero male murdering them as a sympathy ploy
while not dating bisexuals who potentially have attraction to
https://epgn.com/2021/03/10/lesbian-erasure-a-footnote-to-womens-history-month/
Lesbian Erasure: A Footnote to Women's History Month — Philadelphia Gay NewsWomen's History Month often seems like Erasure of Lesbians Month. Many critically important women in American history past and present were lesbians: Susan B. Anthony, Jane Addams, Dr. Alice Hamilton, Dr. Emily Blackwell, Dr. Sara Josephine Baker, Rachel Carson, Dr. Sally Ride, Barbara Jordan, Pauli Murray, Dr. Ruth Gates, Patrisse Cullors and so many others. […]Show Moreepgn.com
meanwhile
every person gets a yes or not, without a value judgement
https://emjaymurphee.medium.com/why-gay-men-wont-date-trans-men-a6daf1bbd51a
Why (Some) Gay Men Won't Date TransmenTransphobia doesn't quite explain itemjaymurphee.medium.com

Gay, bisexual, and queer trans men navigating sexual fieldshttps://journals.sagepub.com › doi › pdfby AI Scheim · 2019 · Cited by 15 — Trans men are individuals assigned a female sex at birth but who identify as male or masculine. Sexualities. 2019, Vol. 22(4) 566–586 ! The Author(s) 2017. Article …
Sexual Health of Trans Men Who Are Gay, Bisexual, or Who …https://pubmed.ncbi.nlm.nih.gov › …by GR Bauer · 2013 · Cited by 72 — Recent reports have addressed the sexual health of female-to-male transgender or transsexual people who are gay, bisexual, and/or have sex with men (trans …

Primed²: A Sex Guide for Trans Men into Men | CATIE …https://www.catie.ca › resources › primed-sex-guide-tra..
It contains important information about staying sexually, mentally and emotionally safe and healthy. Primed was originally published in 2007 and updated in 2015.
16 Things I Learned From Having Sex With Trans Menhttps://www.advocate.com › sexy-beast › 16-things-i-le…
comments from mewe:
Alex C
I don't like this modern trend in the community where some are calling others bigots or trsnsphobes for being attracted to just one set of genitals and not the other. I'm sorry, but we aren't all pansexual or bisexual. Sexual attraction is not just about gender as many would have you believe. It's also about biological sex and always has been, whether we like it or not. It isn't fair to label someone a bigot or judge their character for their sexual attractions. Sexual attraction is NOT a choice and never has been. That is a fact that seems to be lost on more and more people in the community these days.
nina
yes. exactly. people with a wider range of attraction do need to stop calling monosexuals bigots for gay or lesbian sexuality.
and there is no reason to be sorry or that canadian as to say it to soften the view you are legit able to hold and express. and that is legit on the face of it
and the idea of removing biology from understanding people is also very bizarre, especially given dating is sexual selection and not a human rights issue.
name calling just validates a no on dating, as it is a major red flag on what a relationship would be. Dating is about attraction to and is selecting for sexual activity and as such, is a personal choice that everyone has a yes or no on, without threat of name calling, assault, rape or murder. Being rejected as a date is not a human rights complaint.
Alex C
Yeah, removing biology is a good way to put it. Some are 100% pan and 0% concerned with any biology or anatomy, and good for them, but we aren't all like that. I can't pretend to be pansexual to make that community happy, that would be like asking a straight person to pretend to be gay, and calling them a bigot for not being gay attracted. That's absurd, and I hope this trend doesn't stick or it will be very unhealthy for the community.
As a cis gay man I've always found the prospect of gay trans men interesting. I sometimes find myself attracted to trans men. Most that I've met in person seem to be interested in women though.
nina
I do not use the term cis, it has too many problems with the sissy slur and copting from black culture sounding like sis and. your identity is in your world experience. not other people's who need other words to make sense of themself.
it is hard to have a conference on women and exclude mensuration, abortion/pregnancy and, menopause as panels and discussion/information.
nor should anyone pretend to be attracted to who they are not or use a label to avoid being name called.
bisexuals vs pansexual is a horrible debate too, bisexual being binary attraction and pan being beyond binary should be a compromise
Alex C
I personally don't like the term pansexual because in fact there are NOT a panorama of sexes. There are 2 biological sexes, and in rare cases intersex. Pansexual refers to an attraction to multiple genders, and gender is a distinct concept from biological sex, so they really should describe that differently and not fight with people who are bisexual.
nina
bi vs pan is not about either one of those, it is about transgender. and it is about making gender something in a person's mind and that is kinda like having to respect a person's religion when you are an atheist.
once you reject the idea that there is only one hetero way to be either gender, it is not hard to realize there are many ways to be. personality and character is not limited to sexuality/gender and for lesbians there is one word that includes both, given faggot was not reclaimed by gay men.
Alex C
Gender is a social construct and a personal issue. I don't like when people misuse science and try to say that science proves anything about gender. It doesn't. Science only proves biological sex, and shows there's a spectrum of hormonal balances, brain chemistry and neurological patterns that usually correspond to one biological sex but don't always, and many people (including me) exist somewhere on that spectrum. We're just getting caught up in stupid labels with all this infighting about what is factual and what isn't, and who is "woke" and who isn't. The science is very clear.
nina
how gender is represented and expected is a cultural concept that does vary, but that people have a gender is biology. I agree – it is also like religion vs biology, when biology says nothing about religion, and anthropology puts religion in it's cultural place.
academics, medical, legal and then average people understanding differs across jargon specific vs casual use of language – and then are the agenda activists.
MEANWHILE:
everyone is one person and not any or all others.
"all identities simultaneously" – anyone else wondering how self loathing is driving this?
The film depicts Wagemans making the prototype for a futuristic mask, a piece of hackable body equipment that would incorporate software and could conceptually queer the notion of identity. "The story Samuel created is about documenting the making of a mask that is a fictive hacked nano-tech transhuman prototype that connects a global network of queer people who reject the mainstream appetite for immortality, super-intelligence, and well-being," she told Dazed. "An object that you could take off and allows any uncensored software to be installed like scrambled identity – becoming all identities simultaneously."
https://www.dazeddigital.com/art-photography/article/52776/1/artist-esmay-wagemans-creates-technology-for-the-future-queer-body
Artist Esmay Wagemans creates technology for the future queer body | DazedThe science fiction artist envisions how biotech and technological enhancements may further the cause of queer liberation, for Samuel Douek's short film STONEWALL 2069www.dazeddigital.com