Before the 1900s to The Suffragettes
The Friends of Dorothy Era and The Hayes Code
1904, UK – English-American novelist Christopher Isherwood (August 26, 1904 – January 4, 1986) is born in Wyberslegh Hall, United Kingdom. His best-known works include The Berlin Stories (1935-39), two semi-autobiographical novellas inspired by Isherwood's time in Weimar Republic Germany. These enhanced his postwar reputation when they were adapted first into the play I Am a Camera (1951), then the 1955 film of the same name, I Am a Camera (film); In 1966 I Am a Camera became the bravura stage musical Cabaret (musical) which was acclaimed on Broadway, its unsparing stance being substantially sweetened for the film Cabaret (1972). His novel A Single Man was published in 1964. He began living with the photographer William "Bill" Caskey. In 1947, the two traveled to South America. Isherwood wrote the prose and Caskey took the photographs for a 1949 book about their journey entitled The Condor and the Cows. On Valentine's Day 1953, at the age of 48, he met teenaged Don Bachardy among a group of friends on the beach at Santa Monica. Bachardy was 18. Despite the age difference, this meeting began a partnership that, though interrupted by affairs and separations, continued until the end of Isherwood's life. Bachardy became a successful artist with an independent reputation, and his portraits of the dying Isherwood became well known after Isherwood's death.
1929 – Chuck Renslow (August 26, 1929 – June 29, 2017) was an openly gay American businessperson, known for pioneering homoerotic photography in the mid-20th-century, and establishing many landmarks of late-20th-century gay male culture, especially in the Chicago area. His accomplishments included the founding of the Gold Coast bar, Man's Country Baths, the International Mr. Leather competition, Chicago's August White Party, and the magazines Triumph, Rawhide, and Mars. He was the partner and lover of erotica artist Dom Orejudos (July 1, 1933 – September 24, 1991), better known by his pen names Etienne and Stephen.
1923 – Birth date of American photographer Mel Roberts in Toledo, Ohio. Roberts specialized in capturing the ideal California male in a series of images taken during the 1960s and 1970s. Like other photographers from his era, Roberts often used friends and former lovers as his models. Much of his work was published in "The Wild Ones: California Boys: The Erotic Photography of Mel Roberts."
1950s The Decade the public learned heterosexual women wanted sex
1952 – Birth date of actor Michael Jeter (August 26, 1952 – March 30, 2003). He was an American actor of film, stage, and television. His television roles include Herman Stiles on Evening Shade from 1990 until 1994 and Mr. Noodle's brother, Mr. Noodle on Elmo's World (Sesame Street) from 2000 until 2003. Jeter's film roles include Zelig, The Fisher King, Waterworld, Air Bud, Patch Adams, The Green Mile, Jurassic Park III, Sister Act 2, and The Polar Express. On March 30, 2003, Jeter was openly gay and met his partner, Sean Blue, in 1995; they were together from 1995 until Jeter's death in 2003. Jeter was found dead in his Hollywood home at age 50. Although he was HIV positive, he had been in good health for many years. His partner, Sean Blue, stated publicly that Jeter died after suffering an epileptic seizure
1954 – William Burroughs (February 5, 1914 – August 2, 1997) was an American writer and artist. Burroughs was a primary figure of the Beat Generation and a major postmodernist author whose influence is considered to have affected a range of popular culture as well as literature. On this day he wrote to poet Allen Ginsberg that he had fallen in love with his boyfriend, Kiki. Their relationship would last three years until a jealous former lover murdered Kiki. Burroughs found success with his confessional first novel, Junkie (1953), but he is perhaps best known for his third novel Naked Lunch (1959), a highly controversial work that was the subject of a court case after it was challenged as being in violation of the U.S. sodomy laws. Much of Burroughs's work is semi-autobiographical, primarily drawn from his experiences as a heroin addict, as he lived throughout Mexico City, London, Paris and Tangier in Morocco, as well as from his travels in the South American Amazon. Burroughs accidentally killed his second wife, Joan Vollmer, in 1951 in Mexico City with a pistol during a drunken "William Tell" game; he was consequently convicted of manslaughter
The Civil Rights 60s: When the Boomers were under 30
August 26, 1965
Sonny & Cher were at No.1 on the UK singles chart with 'I Got You Babe', the duo's only UK No.1. Sonny Bono was inspired to write the song to capitalize on the popularity of the term "babe," as heard in Bob Dylan's 'It Ain't Me Babe'.
1969, Canada – In Ottawa, amendments to the Canadian Criminal Code come into effect, legalizing sexual acts between two consenting adults in private who are 21 years of age or older. Neither sexual acts nor homosexuality per se were "legalized," rather, "gross indecency" and "buggery" were decriminalized in certain circumstances.
Feminist, Gay Liberation and Lesbian Separatists: Civil Rights
August 26, 1970
Joan Baez, Joni Mitchell, Jimi Hendrix, (his last ever UK appearance), Donovan, Jethro Tull, Miles Davis, Arrival, Cactus, Family, Taste, Mungo Jerry, ELP, The Doors, The Who, Spirit, The Moody Blues, Chicago, Procol Harum, Sly and the Family Stone and Free all appeared over three days at the third Isle Of Wight Festival. Weekend tickets, £3.
The new feminist movement in America, led by Betty Friedan, staged a nationwide Women's Strike for Equality.
1973 –
The date was declared Women's Equality Day by U.S. Presidential Proclamation, to commemorate the 19th Amendment passed in 1920, which gave the vote to American women on a basis equal to men.
The Lesbian Feminist Liberation demonstration at the American Museum of Natural History takes place. It is to demand the inclusion of matriarchies and women's culture. Lesbian Feminist Liberation was a lesbian rights advocacy organization in New York City formed in 1972. Lesbian Feminist Liberation was originally the Lesbian Liberation Committee and a part of the Gay Activists Alliance (GAA). In 1972, when the members felt the GAA was not giving enough focus to lesbian and feminist issues, they left GAA and formed the Lesbian Feminist Liberation. The departure was coordinated by Jean O'Leary (March 4, 1948 – June 4, 2005). The formation of Lesbian Feminist Liberation left the Radical Lesbians group with few members. The Lesbian Liberation Committee, and initially the Lesbian Feminist Liberation as well, met at an old firehouse at 99 Wooster Street in SoHo, the location was known as "The Firehouse." In 1974, the organization worked with New York Radical Feminists to increase the visibility of women at the New York City LGBT Pride March.
1976 -Transgender tennis player Renee Richards (born August 19, 1934), who had undergone sex reassignment surgery in 1975, is barred from the U.S. Open to play as a woman. Her first professional tennis match as a woman was a year later after a decision from the New York Supreme Court. After four years of playing tennis, she decided to return to her medical practice, which she moved to Park Avenue in New York. She then became the surgeon director of ophthalmology and head of the eye-muscle clinic at the Manhattan Eye, Ear and Throat Hospital. In addition she served on the editorial board of the Journal of Pediatric Ophthalmology and Strabismus. She now lives in a small town north of New York City with her platonic companion Arleen Larzelere.
1979
on the USA song charts,  Barbra Streisand had song #3–"The Main Event/Fight" at 7  Anita Ward with "Ring My Bell" and at 10, Elton John landed his 16th Top 10 hit with "Mama Can't Buy You Love".
The Genderfuck Apathetics vs Yuppies : Aids the new STD on the list
1981 – California Governor Jerry Brown appoints Mary C. Morgan to the San Francisco Municipal Court. She was the first openly lesbian judge in the US. She retired in 2011. At the time of her appointment to the San Francisco County Superior Court, Morgan's partner was Roberta Achtenberg, who served as Assistant Secretary of the Department of Housing and Urban Development during the Clinton Administration. Senator Jesse Helms, who had referred to Achtenberg as "that damn lesbian", had held up Achtenberg's nomination and was particularly outraged at discovering that Achtenberg and Morgan had kissed during a gay pride parade
1983
The movie "Merry Christmas, Mr. Lawrence," starring David Bowie and Tom Conti, had its North American premiere.
The Police, Joan Jett & the Blackhearts and R.E.M. were at Shea Stadium in New York City.
1985 – Ryan White (December 6, 1971 – April 8, 1990), an Indiana boy with hemophilia and AIDS, is barred from attending public school. When a court decision allowed him to return, he was forced to use a separate restroom and eat with disposable utensils. His family was forced to move because of threats and violent acts directed toward them.
1986 – Jerry Smith, born Gerald Sanford Smith (July 19, 1943 – October 15, 1986), former Washington Redskins tight end, is the first professional athlete to voluntarily acknowledge that he has AIDS. However, he never acknowledged his homosexuality though his teammates were aware and supported him. The Redskins logo, along with Jerry Smith's uniform number 87, is part of the AIDS quilt. He was a professional American football tight end for the National Football League's Washington Redskins from 1965–1977. By the time he retired he held the NFL record for most career touchdowns by a tight end. A 2014 documentary from the NFL Network's A Football Life series profiles his career, as well as his "double life as a closeted gay man and a star athlete"
90s: Listserves and Email distribution replaces telephone trees for activism
1993 – U.S. Secretary Defense Les Aspin releases a study saying the ban on lesbians and gays in the armed forces should be lifted. The study was conducted by the Rand Corp. and cost $1.3 million. It concluded that the ban could be dropped without damaging order and discipline. Several previous Pentagon studies had reached similar conclusions.
1993 – Federal district court judge Aldon Anderson of Utah announces that he would strike down a state law that prohibited people with AIDS from marrying.
1995 – Spokespersons for homophobic Republican presidential candidate Robert Dole announce that his campaign was returning a $1,000 donation from the Log Cabin Federation, saying the gay and lesbian Republican organization has "a specific political agenda that's fundamentally at odds" with the senator's.
Post 9/11 – From "gay and lesbian" to "lesbigay" to "Lgbt/Lgbtq/Lgbtq2"
2001
Madonna was filmed in concert at the Palace of Auburn Hills in suburban Detroit. The video was released as "Madonna – Drowned World Tour 2001."
2005
Kanye West called for an end to homophobia in the hip-hop world
2021
https://www.rferl.org/a/chechnya-lgbt-man-abducted/31429280.html
Russian LGBT Group Says Man Was Abducted, Taken To Chechnya, And Pressed For Info On Gays In RegionThe Russian LGBT Network says Daghestan native Ibragim Selimkhanov was abducted earlier this year in Moscow and forcibly brought to the North Caucasus region of Chechnya, where authorities pressed him for information on gay people in the region.www.rferl.org
https://www.dailymail.co.uk/news/article-9928267/Kamala-Harris-holds-Vietnamese-round-table-disabled-LGBT-rights.html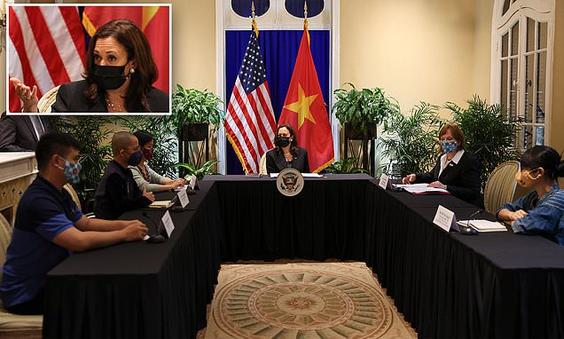 Kamala Harris holds Vietnamese round-table on disabled and LGBT rights | Daily Mail OnlineVice President Kamala Harris held a roundtable discussion on LGBTQ and disabled rights with Vietnamese social advocacy organizations in Hanoi on Thursday.www.dailymail.co.uk
https://inews.co.uk/news/world/afghanistan-government-evacuate-lgbt-people-threat-taliban-1166311
Afghanistan: Government urged to evacuate LGBT people under threat from the TalibanThe CEOs of Stonewall and Rainbow Migration are callng for an 'urgent meeting' with the Foreign Secretary to share information about the plight of LGBT Afghans and make a plan to get them outinews.co.uk
cited sources
Today in LGBT History – August 26 | Ronni Sanlo