Before the 1900s to The Suffragettes
The Friends of Dorothy Era and The Hayes Code
1950s The Decade the public learned heterosexual women wanted sex
October 9, 1955
The J.P. Seeburg Corporation introduces its new Dual Music System Jukebox, the first ever equipped to hold a hundred singles and two song per side Extended Play discs.
The Civil Rights 60s: When the Boomers were under 30
October 9, 1969
For the first time in the history of the show, the BBC's Top Of The Pops producers refused to air the No. 1 song, 'Je T'aime… Moi Non Plus', the erotic French language love song by Serge Gainsbourg and actress Jane Birkin. The song, an instrumental with the voices of Gainsbourg and Birkin apparently recorded in the act of love and superimposed over the top, caused such a stir in Britain that the original label, Fontana, dropped the record despite it being No. 2 on the charts. A small record company, Major Minor, bought the rights and saw the song climb to the top of the charts, the first French language song to ever do so.
Feminist, Gay Liberation and Lesbian Separatists: Civil Rights
1970 – In Minneapolis, FREE (Gay Liberation of Minnesota) opens the first "Regional Gay Convention" in the Midwest.
1978
Belgian singer songwriter Jacques Brel died of cancer aged 49. Artists who recorded his songs include, Ray Charles, Scott Walker, Alex Harvey, Frank Sinatra, Dusty Springfield, David Bowie, Nina Simone and Terry Jacks.
The Genderfuck Apathetics vs Yuppies : Aids the new STD on the list
1983
Culture Club released the single "Church of the Poison Mind".
Wham! began a tour at the Capitol Center in Aberdeen, Scotland.
1987
on the USA LP Charts, at 3 Whitney by Whitney Houston.
90s: Listserves and Email distribution replaces telephone trees for activism
1993:
Following his retirement in 1993, Episcopal Bishop E. Otis Charles became the first Christian bishop to come out of the closet at the age of 67. He served as a bishop of Utah from 1971-1986. He went on to marry Dr. Felipe Sanchez-Paris and become a prominent gay rights activist.
1993:
Rev. Billy Graham apologized for calling the AIDS epidemic an act of divine judgement during a sermon in Columbus, Ohio. He reportedly recanted the statements by saying, "I don't believe that, and I don't know why I said it."
1998:
South Africa officially repealed its sodomy law, residual legislation from former Colonial British rule. Originally ruled unconstitutional in May of that year, South Africa's highest court confirmed the ruling on this date.
The Netherlands sanctions adoption by same-sex couples as long as they meet the same criteria required of heterosexual couples.
Russell Henderson and Aaron McKinney from Laramie, Wyoming, make their first court appearance after being arrested for the murder of Matthew Shepard (December 1, 1976 – October 12, 1998). Eventually, they each receive two life sentences for killing Shepard. Matthew was an American student at the University of Wyoming who was beaten, tortured, and left to die near Laramie on the night of October 6, 1998. Six days later, he died from severe head injuries at Poudre Valley Hospital in Fort Collins, Colorado.
1999
Eurythmics, George Michael, David Bowie, Robbie Williams and Bono all appeared at 'Netaid' an event to raise money for global poverty. The concerts in London, New York and Geneva were all broadcast live on the internet.
Lesbian politician Ulrike Lunacek (born 26 May 1957) becomes the first openly gay member of Austrian Parliament, serving with the Austrian Green party. She is an Austrian politician and Member of the European Parliament (MEP) from Austria. She is Vice President of the European Parliament, Member of the Greens/EFA group in the European Parliament since 2009 and head of delegation of the Austrian Greens in the European Parliament. Lunacek is Kosovo-Rapporteur and co-president of the Intergroup on LGBTI Rights and Member of the Committee on Foreign Affairs and Substitute in the Committee on Civil Liberties, Justice and Home Affair. In 2013, Lunacek advocated for a non-binding resolution on "Sexual and Reproductive Health and Rights".[11]that called for "age-appropriate and gender-sensitive sexuality and relationship education … for all children and adolescents" and referenced a document co-authored by the WHO in which some sexuality information is deemed appropriate from age 4. After some controversy, the European Parliament instead passed a modified version which declared sexual education a competence of the member states.
Post 9/11 – From "gay and lesbian" to "lesbigay" to "Lgbt/Lgbtq/Lgbtq2"
2002 – Lesbian serial killer Aileen Wournos (February 29, 1956 – October 9, 2002) is executed in Florida. She was an American serial killer who murdered seven men in Florida between 1989 and 1990 by shooting them at point-blank range. Wuornos claimed that her victims had either raped or attempted to rape her while she was working as a sex worker, and that all of the homicides were committed in self-defense. She was convicted and sentenced to death for six of the murders and was executed by lethal injection on October 9, 2002.
2003
For the first time in Billboard magazine's history, all of the Top 10 singles on the Hot 100 chart were by African-American artists.
2007 – A Shot of Love with Tila Tequila, a reality dating show about a bisexual women dating both male and female contestants, premiers.
2008 – Stephan Thorne of the San Francisco Police Department is promoted to Lieutenant, making him the highest-ranking transgender law enforcement official in the country.
2011 – California Governor Jerry Brown announces the signing of the Gender Nondiscrimination Act (AB 887) and the Vital Statistics Modernization Act (AB 443). AB 887 makes illegal discrimination based on gender identity or expression in employment, education, housing, and other public settings and AB 443 allows transgender people to obtain a court order to protect their gender.
2011, Poland – The first transgender member of Parliament in Europe, Anna Grodzka (born 16 March 1954), is elected. She is a Polish politician. Grodzka, a trans woman, was elected to the Sejm in the 2011 Polish parliamentary elections as a candidate for the left-liberal Palikot's Movement, and was the first openly transgender Member of Parliament in Poland. In June 2014, Anna Grodzka joined Poland's Green Party.
2013
LGBT History Month: 4 Queer Events On October 9 | HuffPost
2021
it is a continuation of previous centuries
https://www.tampabay.com/opinion/2021/10/09/political-homophobia-is-a-21st-century-curse-column/
Political homophobia is a 21st century curse | ColumnHomophobia and hostility to LGBTQ+ individuals too often remain a winning political strategy.www.tampabay.com
maybe the question is why are heterosexuals so insecure to the point of oppression and genocide
https://www.lgbtqnation.com/2021/10/pbss-new-film-cured-tells-story-lgbtq-people-stopped-sick/
PBS's new film "Cured" tells the story of how LGBTQ people stopped being sick / LGBTQ NationA small group of thoughtful, committed citizens force psychiatrists to reexamine their homophobia and transphobia. This is how it happened…www.lgbtqnation.com
https://www.washingtonblade.com/2021/10/09/u-s-must-resettle-lgbt-refugees/
Opinion | U.S. must resettle LGBT refugeesTaliban spells disaster for gay, transgender peoplewww.washingtonblade.com
https://www.nbcnews.com/nbc-out/out-life-and-style/tom-daley-calls-ban-countries-gay-punishable-death-olympics-rcna2786
Tom Daley calls for Olympic ban on countries where being gay is punishable by deathBritish Olympic diver Tom Daley said that he will make it his "mission" to stop countries where homosexuality is punishable by death from competing in the Olympwww.nbcnews.com
https://www.euronews.com/2021/10/08/portugal-moves-to-outlaw-anti-gay-blood-donation-prejudice
Portugal moves to outlaw anti-gay blood donation prejudice | EuronewsPortugal's parliament has passed four new laws preventing discrimination against blood donors based on their sexual orientation.www.euronews.com
no longer for or by lesbians or women
https://www.nytimes.com/2021/10/09/style/dinah-shore-weekend.html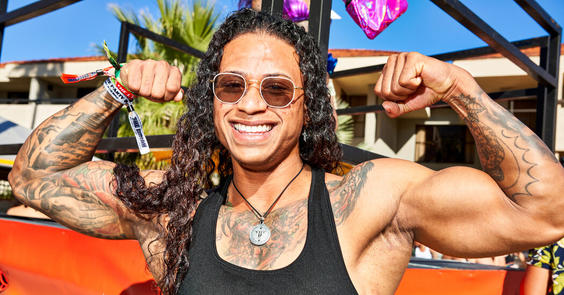 The Dinah, a Festival for Queer Women, Returns to Palm Springs – The New York TimesThe Dinah Shore Weekend, an annual festival for queer women, returned to Palm Springs last weekend after a two-year hiatus, this time with even more energy than usual.www.nytimes.com
stop being bothered we exist
https://www.dailymail.co.uk/femail/article-10073577/Woman-rants-against-Tide-featured-lesbian-couple-black-children-ad.html
Woman rants against Tide because they featured a lesbian couple and their black children in an ad | Daily Mail OnlineRaven Constantine shared the rant against Tide on Gab. She took issue with a Tide detergent ad featuring a white lesbian couple with two black children. Raven called it 'disgusting.'www.dailymail.co.uk
the qmunity needs to stop bashing on lesbians
https://www.gaytimes.co.uk/life/international-lesbian-day-char-bailey-on-the-importance-of-self-love-in-the-lgbtq-community/
International Lesbian Day: Char Bailey on the importance of self-love in the LGBTQ+ communityChar Bailey shares what growing up as a lesbian of colour was like for her and why UK Black Pride feels like "home".www.gaytimes.co.uk
https://www.teenvogue.com/story/hot-bisexuals-against-sinema-sunrise
Sunrise Movement Launches Hot Bisexuals Against Kyrsten Sinema Phonebank | Teen VogueSunrise's Tempe, Arizona, hub is connecting young people to Sen. Kyrsten Sinema's office to demand climate action.www.teenvogue.com
that is not just a penis – and speaks to women's invisibility
but really, one has to wonder why any adult thought this was okay
https://www.vancouverisawesome.com/events-and-entertainment/this-massive-penis-slide-has-been-erected-in-a-lower-mainland-playground-photo-4499730
A massive penis slide has been erected in a Lower Mainland – Vancouver Is AwesomeA massive red penis slide in a Maple Ridge playground is part of a movie by Crazy Rich Asians screenwriter Adele Lim that is co-produced by Seth Rogen.www.vancouverisawesome.com
cited sources
Today in LGBT History by Ronni Sanlo
LGBT History Month: 4 Queer Events On October 9 | HuffPost