Bisexual need role models. No question.
Sexuality representation is overrepresented by white gay men and to a differing degree white lesbians.
https://www.advocate.com/arts-entertainment/2021/7/12/legally-blonde-screenwriter-just-shut-down-queer-ending-rumor
'Legally Blonde' Screenwriter Just Shut Down the Queer Ending Rumor"I wrote the movie. I'm in the picture you just posted."www.advocate.com
so. with those two grains of salt.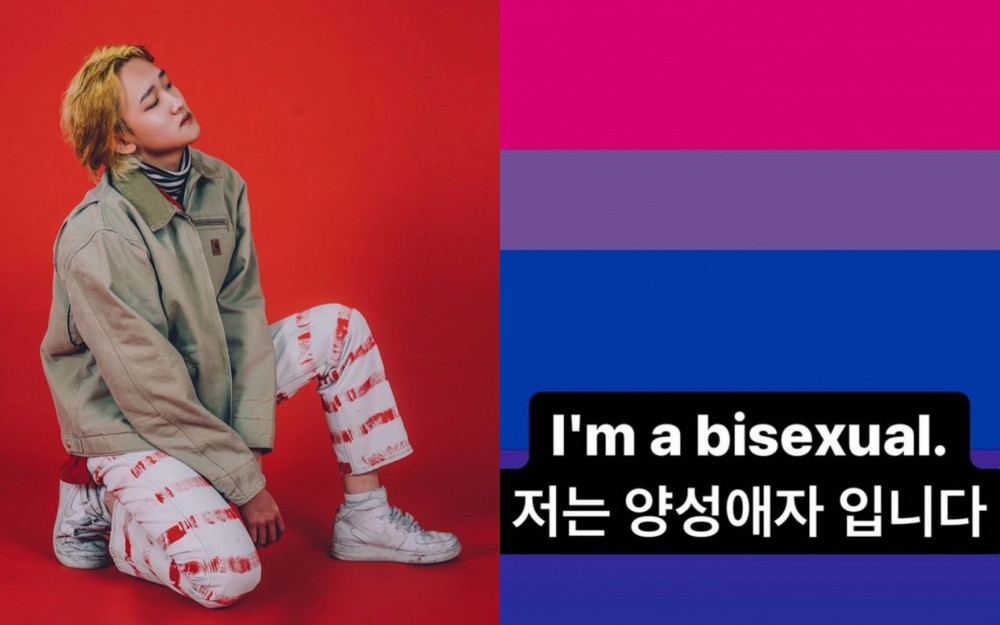 https://www.allkpop.com/article/2021/07/rapper-aquinas-states-that-he-came-out-as-being-bisexual-to-give-courage-and-support-the-lgbtq-community
Rapper Aquinas comes out bisexual in a culture hostile to non heterosexuality is a brave action.
Reality Genre tv personality Sarah Beth coming out as well as admitting vulnerability in a somewhat safe to do so in culture is as much a role model courage.
"Growing up in a religious family, I'm really lucky in that they accept me and they love me, but I know it still hurts them. I think I struggle a lot with feeling guilty because I am bi, and I could just date a guy and make things easier," Sarah Beth told her fellow houseguests, apologizing for tearing up during the conversation.
Later in the Diary Room, Sarah Beth opened up more about her experience, explaining, "I know I'm still on a journey for myself because of how I was raised, and, you know, what society has told me." She added, "I'm still personally working through the prejudices that were put into my head. Even though I am a bisexual woman, and even though I know what I believe is right, I still have to not only accept myself, but make sure I'm also accepting everybody else."
https://decider.com/2021/07/15/big-brother-contestant-admits-she-feels-guilty-about-being-bisexual/
'Big Brother' Contestant Admits She Sometimes Feels "Guilty" for Being Bisexual'Big Brother' contestant Sarah Beth opened up about being bisexual during last night's episode of 'Big Brother,' telling her fellow houseguests that she sometimes still feels guilty about her sexuality.decider.com
to reject being labelled – was the way bisexuals self identified to gay men and lesbians.
https://www.nytimes.com/2021/06/17/opinion/bisexuals-coming-out-anna-paquin.html
Opinion | Why Bisexuals Should Come Out and Embrace the Label – The New York TimesWe need you. You could use us, too.www.nytimes.com
https://www.nbcnews.com/nbc-out/out-politics-and-policy/lesbian-bisexual-women-successful-ballot-box-gay-men-study-finds-rcna1365
Lesbian, bisexual women more successful at the ballot box than gay men, study finds<p>Last September, Marie Pinkney beat incumbent Delaware state Sen.www.nbcnews.com
the phrase "queer woman" does not signify anything
Bisexual women and lesbians are different.
and those who identify as "gay women" are lesbians who can't say lesbian
the current decade emergence of pansexuality
along with an apparent reversal of describing the human spectrum
which begins with heterosexuals owing to being the largest portion of the human population in a sexually reproducing mammal species.
heterosexuality, being a monosexuality of attracted to opposite of own gender.
then the monosexual gay men and lesbians, attracted to own gender.
Bisexuals being both attracted, which remains relevant to the manner english language with latin origins words work
group identity formed from individuals sharing characteristics.
so, for the majority of the human population, self descriptions of gender and sexuality are from lived experience, including being one's own expert and describing oneself in terms of who one is attracted to pair to orgy with
in a kink aware and informed consent about stds, genitals, sexual positions and scenes and safewords, which, when anyone is denied a no to a date, that is a dire warning of what to expect a no will mean.
lesbians are not biphobic as lesbians do not rape and murder bisexual women for being in the same room – and homophobic and transphobic are the words of defense that heterosexual men use to explain why they have raped and or murdered a gay or bisexual man who asked for a yes or a transwoman who the hetero male feels tricked them. and often assaults on those who fail to conform and have not been involved in a sexual situation, for which, informed consent is required for everyone's saftey.
so telling lesbians that we do not get to say no to dating tranwomen is to tell lesbians to accept being raped, as without a no to a date, one does not have a no to sex – and this from a community that is supposed to be against violence to women, and understand basic and kink consent.
telling lesbians we are bad for not dating bisexual women is almost as bad
every person has a choice of who they date
and everyone dates for sexual reasons
which is determined by what genitals one finds sexually attractive
and no one should be shamed for not finding one or the other unattractive
sexual violence occurs primarily against women
and all violence is primarly done by men
no woman can self identify out of harm
and no woman should be shamed or named called for not wanting to date
but especially lesbians – other demographics who expect validation and allies, also have to be allies and respect lesbian boundaries
we helped hetero women get rights for women
we helped gay men with aids
transwomen are fetizishing lesbians and cotton ceiling is a confession of not being allies to lesbians and directing anger and contempt for lesbians having and asserting our human rights to our demographic and decades of commonly understood to the public the meaning of lesbian.