BCE to The Suffragettes
12-28-1882 – 09-13-1931 Lili Elbe – Born in Vejle, Denmark. She was a Danish transgender woman and one of the first recipients of
sex reassignment surgery. Elbe was born Einer Magnus Andreas Wegener and was a successful artist under that name. In 1904 Elbe married artist Gerda Gottlieb. The two of them worked as illustrators, Elbe specializing in landscapes, while Gottlieb illustrated books and fashion magazines. In 1912 they settled in Paris, where Elbe could live openly as a woman and Gottlieb could be actively lesbian. In 1930, Elbe went to Germany for sex reassignment surgery.
Four operations were carried out over a two year period. At the time of Elbe's last surgery, her case was already a sensation in newspapers of Denmark and Germany. In June 1931, she had her fourth surgery. She died three months later. In 2000, David Ebershoff wrote The Danish Girl, a fictionalized account of Elbe's life. In 2015, it was made into a film by the same name.
1931 – Lili Ilse Elvenes (28 December 1882 – 13 September 1931) is born. She was a Danish painter, better known today by the pseudonym 'Lili Elbe,' who becomes the second transgender woman to benefit from Gohrbandt's vaginoplasty technique in 1931. Her castration and penectomy had been performed by Dr Ludwig Levy-Lenz (1889-1966) the previous year. These preliminaries have sometimes caused confusion over the date of Lili's 'sex change' which – like all other gender transitions – is not so much a single event as a process extended in time. 
The Friends of Dorothy Era and The Hayes Code
1944
The musical "On the Town" opened in New York City and ran for 462 performances. It featured the song, "New York, New York.
1950s The Decade the public learned heterosexual women wanted sex
12-28-1956 Birgitt "Biggi" Bender – Born in Düsseldorf, Germany.
She is a German politician and member of Alliance '90/The Greens in the Bundestag. She studied law in Cologne, Geneva, and in Freiburg. Bender was a member of Parliament from 2002 to 2013. She is an out lesbian.
The Civil Rights 60s: When the Boomers were under 30
December 28, 1961
Danny Williams was at No.1 on the UK singles chart with 'Moon River', the Oscar-winning song was from the film Breakfast At Tiffany's
December 28, 1963
The single "Dominique" and its companion LP "The Singing Nun" top the Billboard singles chart and album chart respectively. "Dominique" was #1 for a fourth week overall.
The Soundtrack to "West Side Story" re-entered the Top 10 in its 114th week of release.
12-28-1963 Malcolm Gets – Born in Waukegan, Illinois. He is an 
American actor. He is best known for his role as Richard in the American TV sitcom Caroline in the City. Gets is also a dancer, singer, classically trained pianist, vocal director, and choreographer. He was nominated for a Tony Award in 2003 and was awarded the Obie Award in 1995. He is openly gay.
1969 – The Los Angeles chapter of the Gay Liberation Front's Don Jackson outlines a plan for a "gay colony" in California's Alpine County whose current population is 450. They would recall the county government and elect an all-gay slate. Although his proposal attracts widespread media attention – and support from activists, including Jim Kepner (1923 – 15 November 1997) and Don Kilhefner (born March 3, 1938) – few gay men and lesbians are willing to make the move.  The plan never happens.
Feminist, Gay Liberation and Lesbian Separatists: Civil Rights
12-28-1972 Katarzyna Adamik – Born in Warsaw, Poland. She is a
Polish film director, visual arts artist, and storyboard artist. Her parents are the Polish film director Agnieszka Holland and Laco Adamik, a Polish opera director of Slovak origin. She graduated in graphics from the Academy of Fine Arts in Brussels. She debuted in the film industry in 1993. Adamik has worked as a storyboard artist on many films, including In Darkness, Copying Beethoven, Catwoman, Wicked, and Total Eclipse.  She came out as a lesbian in 2012.
1974
 Barry Manilow rose to #1 on the Adult chart with his first single, "Mandy"
On the Pop chart, #2  Elton John with his remake of the Beatles' song "Lucy In The Sky With Diamonds"
Elton John's Greatest Hits was the #1 album for the fifth week 
The first Broadway revival of "Fiddler on the Roof" opened at the Winter Garden Theatre.
The Genderfuck Apathetics vs Yuppies : Aids the new STD on the list
1981
Warner Brothers Records, which includes Elektra and Asylum, follows the lead of RCA and raises its price for 45 rpm singles to $1.99.
1985
Barbra Streisand was up to #4 with The Broadway Album
1986 – Terry Dolan (1950 – December 28, 1986), an anti-gay family values advocate, was discovered to have been gay after his death from complications of AIDS at age 36. While he was persistently critical of gay rights, he was revealed to have been a closeted homosexual who frequented gay bars in Washington, D.C.
1988 – A district court judge ruled that Karen Thompson must be allowed to visit her lover, Sharon Kowalski, a quadriplegic. He also ruled that Kowalski's father would remain her guardian. Kowalski had been seriously injured in an accident, and her father refused to allow Thompson to visit her. Karen fought and won the right to be Sharon'[s legal guardian. In re Guardianship of Kowalski, 478 N.W.2d 790 (Minn. Ct. App. 1991) is the Minnesota Court of Appeals case that established a lesbian's partner as her legal guardian after Sharon Kowalski became incapacitated following an automobile accident. Because the case was contested by Kowalski's parents and family and initially resulted in the partner being excluded for several years from visiting Kowalski, the gay community celebrated the final resolution in favor of the partner as a victory for gay rights.
90s: Listserves and Email distribution replaces telephone trees for activism
1990 – The Greensboro, North Carolina council repeals a municipal ordinance forbidding discrimination based on sexual orientation. The council had passed the ordinance only three months earlier.


1994, India – About 70 men from Bangladesh, India, Nepal, Pakistan, and Sri Lanka attend the first regional conference for gay rights in South Asia, a five-day event organized in New Delhi by activist Ashok Row Kawi (born 1 June 1947). Ashok Row Kavi is an Indian journalist and one of India's most prominent LGBT rights activists. In 1990, he founded Bombay Dost, India's first gay magazine. He was a representative at the International AIDS Conference in Amsterdam and served as chairman of the Second International Congress on AIDS. At the present, he is founder-chairperson of the Humsafar Trust, an LGBT rights and health services NGO, which also agitates for the legal emancipation of homosexuality in India. Row Kavi has been listed among India's Seven Most Influential Gay & Lesbian individuals by Pink Pages magazine. In September 2017 India Times listed Kavi as one of the 11 Human Rights Activists Whose Life Mission Is To Provide Others With A Dignified Life
1998, The Vatican – Pope John Paul II speaks out against the acceptance of non-traditional families, saying it disfigures the traditional family structure.
Post 9/11 – The Shock Decade From "gay and lesbian" to "lesbigay" to "Lgbt/Lgbtq/Lgbtq2"
2005, Nigeria – The Church of Nigeria issues a press release warning people about David Mac-lyalla (born 1972) "who claims to be a member of the Anglican Church." (Actually, he was not only a member but he worked for the Church for years.) Earlier in the year, Mac-lyalla had been arrested and tortured by the police. In 2008, he was given refuge asylum in the UK and received the Bishop Desmond Tutu Award for Human Rights and Social Justice. He established the Nigerian wing of the British Changing Attitude organization, which presses for internal reform of the Anglican Communion for further inclusion of Anglican sexual minorities.
Human Rights in global conflict: Trans/Pans vs LGB/ vs Heterosexual women
2016
within days of Carrie Fisher's drug death, Debbie Reynolds, the singer and actress who topped the Billboard and Cashbox charts in 1957 with "Tammy", died at the age of 84. In early 1958 she reached #20 on the Most Played by Jockeys chart with "A Very Special Love", then scored two entries on the Hot 100 in 1960: "Am I That Easy to Forget" (#25) and "City Lights" (#55).
2021
https://www.cnn.com/2021/12/27/africa/desmond-tutu-lgbtq-climate-palestine-reaction-intl/index.html
Desmond Tutu: As South Africa mourns the archbichop, so do LGBTQ groups, Palestinians and climate activists – CNNTutu was best known for helping to end decades of institutionalized segregation and racism in South Africa, but he was also celebrated for lending his voice to other injustices and oppression globally.www.cnn.com
https://www.penncapital-star.com/civil-rights-social-justice/what-its-like-to-be-lgbtq-and-in-prison-special-report/
What it's like to be LGBTQ and in prison | Special Report – Pennsylvania Capital-StarSome 42.1 percent of women in prison and 35.7 percent of women in jail in the criminal justice system self-identified as lesbian, bisexual or queer.www.penncapital-star.com
https://www.sfchronicle.com/bayarea/article/Two-California-teachers-were-secretly-recorded-16732562.php
Two California teachers were secretly recorded speaking about LGBTQ student outreach. Now they're fighting for their jobsLori Caldeira and Kelly Baraki headed UBU, a gay-straight alliance at a Salinas Valley…www.sfchronicle.com
https://chicago.gopride.com/news/article.cfm/articleid/126652500
Indianapolis-area high school LGBTQ club wins court case to promote activitiesThe Trump-appointed federal judge says Gay-Straight Alliance has free speech rights at Pendleton Heights High school.chicago.gopride.com
to stop being oppressed by heterosexuals externally and to stop being sexually harassed internally
https://www.cbc.ca/news/canada/prince-edward-island/pei-peers-alliance-end-of-2022-1.6288603
Needs of LGBTQ students came into 'sharp focus' in 2021, says PEERS Alliance | CBC NewsThe executive director of PEERS Alliance said working directly with 2SLGBTQ+ students in the classroom made "a really big difference" in 2021. www.cbc.ca
https://indianexpress.com/article/world/from-bhutan-to-botswana-lgbtq-rights-advanced-in-unexpected-places-in-2021-7694627/
From Bhutan to Botswana, LGBTQ rights advanced in unexpected places in 2021 | World News,The Indian ExpressPlaces such as Poland and Hungary have seen a reversal of hard-won progress, with conservative governments stoking anti-LGBTQ sentiment in the name of family values.indianexpress.com
from the article:
Any individual, organization, media outlet, or political movement can find itself on the government's foreign agent registry if they receive even a small donation from a foreigner and engage in any "loosely defined political activity" that challenges the government's power.
https://www.lgbtqnation.com/2021/12/russia-using-dirty-trick-block-lgbtq-websites-appearing-online/
Russia is using a dirty trick to kick LGBTQ websites off of the internet / LGBTQ NationRussia's nasty 2013 law banning "gay propaganda" has found a clever way to prosecute and silence LGBTQ organizations…www.lgbtqnation.com
first books, then people
https://www.nbcnews.com/nbc-out/out-pop-culture/10-notable-lgbtq-books-2021-rcna8707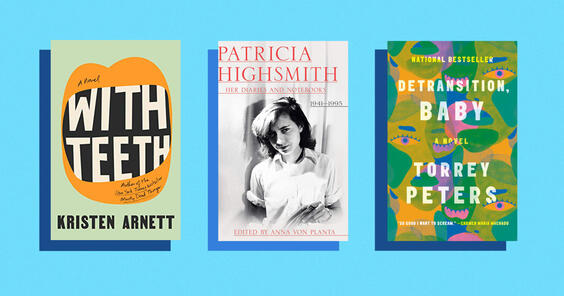 10 most notable LGBTQ books of 2021The 10 most notable LGBTQ books of 2021 cover everything from the AIDS crisis to queer love triangles.www.nbcnews.com
cited sources
Today in LGBT History   by Ronni Sanlo
~~~~~~
https://lgbtdailyspotlight.com/
people link events link
~~~~