Before the 1900s to The Suffragettes
1884, Uganda – Danieri Basammula-Ekkere Mwanga II Mukasa (1868–1903) of Buganda ascends to the throne as the 31st king of Buganda (now Uganda), reigning from 1884 to 1888. He keeps a harem of young boys along with his 16 wives. He was Kabaka of Buganda from 1884 until 1888 and from 1889 until 1897.
1894 – Harris Olney, 28, and James Dalton, 25, were found dead in a room at the Metropolitan Hotel in New York. They had gone to bed, deeply intoxicated, leaving the gas turned on full steam. Olney was a well-known jockey. Dalton, 25, was a frequenter of race tracks. Olney rode Pierre Lorillard's famous horse Pontiac when he won the "Suburban Handicap" in 1885 at Sheepshead Bay Race Track at the Coney Island Jockey Club in Sheepshead Bay, New York.
1907: A debate occurred surrounding Paragraph 175, Germany's sodomy law, drawing in 2,000 participants. Paragraph 175 was key legislation utilized by the Nazis to persecute and incarcerate LGBT individuals, reportedly used by the party to arrest 100,000 men between 1933 and 1945.
1914 – Rhoda Bubendey Metraux (18 October 1914, New York City – 26 November 2003) was a prominent anthropologist in the area of cross-cultural studies, specializing in Haitian voodoo and the Iatmul people of the middle Sepik River in Papua New Guinea. She collaborated with Alfred Metraux, on mutual studies of Voodoo in Haiti. During World War II, Metraux headed the section on German morale for the US Office of Strategic Services (OSS). Rhoda Metraux was also an important professional and personal partner of Margaret Mead (1901–1978). Mead and Rhoda Metraux were a close-knit professional team whose work greatly influenced American anthropology in the late 20th century. They shared a house in Greenwich Village in New York City from 1955 to 1966 and an apartment on Central Park West from 1966 until Mead's death in 1978.
The Friends of Dorothy Era and The Hayes Code
1950s The Decade the public learned heterosexual women wanted sex
1953 –  Tim Gill (born October 18, 1953) is born in Hobart, Indiana. He is an American software entrepreneur, philanthropist, and creator of the Gill Foundation, one of the first major foundations to benefit the LGBTQ community. He is the single largest individual donor to the LGBT rights movement in U.S. history, having personally committed more than $422 million since the early 1990s,Gill is also the founder of the pioneering page layout software company Quark, Inc.Gill sold his 50 percent stake in the company in 1999 for a reported $500 million. Gill's latest venture is JStar LLC, a smart home technology start-up that invented Josh.ai, a voice-controlled home automation system using JStar's own artificial intelligence technology platform. Gill married his husband Scott Miller in Massachusetts in 2009.They live in Denver, Colorado.
1956, Czechoslovakia. – Martina Navratilova (born October 18, 1956) is born in Prague. She is an American tennis player and coach. In 2005, Tennis magazine selected her as the greatest female tennis player for the years 1965 through 2005 and she is considered one of the best, if not the best, female tennis players of all time. She won 18 major singles tennis titles, including nine at Wimbledon. Martina emigrated to the U.S. in 1975, came out as bisexual in 1980, one of the very first pro athletes to do so. She became a U.S. citizen in 1981. In 1981, she came out as bisexual and revealed that she had a sexual relationship with author Rita Mae Brown. Navratilova and Nancy Lieberman, her next girlfriend at the time, gave an interview to Dallas Morning News columnist Bayless, where Navratilova reiterated that she was bisexual and Lieberman identified herself as straight. Navratilova has since identified herself as a lesbian. From 1984 to 1991, Navratilova had a long-term relationship with Judy Nelson, whom she met at a tournament in Fort Worth in 1982. Their split in 1991 included a much-publicized legal wrangle. Navratilova was featured in a WITA (Women's International Tennis Association) calendar, shot by Jean Renard with her Wimbledon trophies and Nelson's children in the background. On September 6, 2014, Navratilova proposed to her longtime girlfriend Julia Lemigova at the US Open. They married in New York on December 15, 2014.
October 18, 1959
In Kansas City, 75 teenagers were arrested outside Municipal Auditorium after a riot broke out, giving civic leaders ammunition to further decry "the rock 'n' roll menace."
The Civil Rights 60s: When the Boomers were under 30
Feminist, Gay Liberation and Lesbian Separatists: Civil Rights
1975
On the USA song charts, Neil Sedaka and Elton John remained at #1 with "Bad Blood"
1977:
According to Oregon State University Pride Center: "Citizens United to Protect Our Children, an organization in Portland, Oregon, announced they had failed to get enough signatures to get a recall election of Mayor Neil Goldschmidt after he declared Portland Gay Pride Day."
1979
 Elton John performed for the first of nine nights at the Palladium in New York City.
The Genderfuck Apathetics vs Yuppies : Aids the new STD on the list
1980
On the USA LP Charts: The Game by Queen was #1 on the Album chart for the fifth week, with  Guilty from Barbra Streisand moved from 15 to 2.  Diana by Diana Ross came in third while the "Xanadu" Soundtrack was #4.
Song Charts: Queen had the biggest hit of their career with "Another One Bites The Dust" which remained #1 for a third week.  Barbra Streisand was poised at #2 with "Woman In Love" while Diana Ross was at #3 with her 24th solo hit and 57th overall (counting the Supremes)–"Upside Down" and at 8  Olivia Newton-John and ELO combined for "Xanadu",
1986 – The U.S. Supreme Court rules in Bowers v. Hardwick to uphold Georgia's sodomy law which banned consensual sodomy between married and non-married people, and with it similar laws in twenty-five other states and the District of Columbia.
at 7 on the USA LP charts: Madonna dropped with True Blue,
90s: Listserves and Email distribution replaces telephone trees for activism
1990:
Former Supreme Court Justice Lewis Powell proclaimed that he made a mistake in voting to uphold Georgia's sodomy law in the landmark Bowers vs. Hardwick case. Powell stated that he had voted the wrong way in his decision to declare that the Constitution doesn't protect rights to privacy for individuals engaging in sexual acts with members of the same sex.
Three white supremacists from Boise, Idaho were convicted of conspiring to blow up a gay bar in Seattle named the Neighbours Disco. One of the defendants reportedly lived on the notorious Church of Jesus Christ Christian-Aryan Nations compound.
1991 – Admiral Frank B. Kelso, chief of naval operations, announced that the explosion of the USS Iowa which killed forty-seven men had been proven not to have been caused by a wrongful intentional act and apologized to the family of Clayton Hartwig. Hartwig had been accused of intentionally causing the blast as an act of suicide following the break-up of a homosexual affair. It was not proven that he was homosexual.
1997
 "Candle In The Wind 1997" by Elton John, which had debuted at #1 the week before, remained in that spot. 
Post 9/11 – From "gay and lesbian" to "lesbigay" to "Lgbt/Lgbtq/Lgbtq2"
2005
Madonna admitted that she wrote a grovelling letter to Abba asking if she could sample their music on her latest single 'Hung Up.' The singer had to seek permission to sample 'Gimme Gimme Gimme' and became only the second act that Abba has allowed to sample their work. The Fugees used part of 'The Name Of The Game' on their 1996 track 'Rumble In The Jungle.'
2012
Barbra Streisand became the first act to take multiple new albums into the Billboard 200 chart's Top 10 in every decade since the 1960s when "Release Me," debuted at #7.
2021
https://www.themarysue.com/amber-ruffin-tells-fanboys-panicking-about-bisexual-superman-to-get-a-grip/
Amber Ruffin Tells Fanboys Get Over Bisexual SupermanAmber Ruffin dismissed butthurt fanboys complaining about Superman's bisexuality.www.themarysue.com
https://www.latimes.com/entertainment-arts/tv/story/2021-10-17/bowen-yang-snl-oompa-loompa-timothee-chalamet-wonka
Bowen Yang's 'gay Oompa Loompa' mocks Chalamet's Willy Wonka – Los Angeles TimesThis week's 'Saturday Night Live' saw Bowen Yang appear on 'Weekend Update' as a 'proud, gay Oompa Loompa' to comment on Timothée Chalamet's 'Wonka.'www.latimes.com
https://www.lgbtqnation.com/2021/10/police-ignored-gay-bashed-couples-calls-help-day/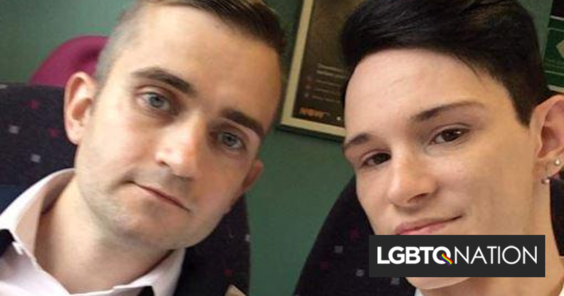 Police ignored a gay-bashed couple's calls for help until the day after / LGBTQ Nation"It's horrible, I keep getting really upset about it," the survivor's father said. "These people need to be named and shamed…www.lgbtqnation.com
https://www.pinknews.co.uk/2021/10/18/premier-league-football-gay-amal-fashanu/
Gay Premier League footballer tortured by fears he'll be 'crucified' for coming outA gay Premier League footballer is in therapy over his fears that he will be "crucified" by fans if he were to come out publicly.www.pinknews.co.uk
https://www.lgbtqnation.com/2021/10/bullying-queerphobia-literally-change-queer-peoples-genetics-affecting-offspring/
Bullying and queerphobia literally change queer people's genetics, affecting their offspring / LGBTQ NationQueerphobia can genetically change the physical appearance and healthiness of a queer person's children and grandchildren. But there's also good news…www.lgbtqnation.com
cited sources
Today in LGBT History   by Ronni Sanlo
Daily Elvis