1942
The American Federation of Musicians went on strike after Union president James C. Petrillo told musicians that phonograph records were 'a threat to members' jobs.' As a result, musicians refused to perform in recording sessions over the next several months, although live, musical radio broadcasts did continue.
1971
"The Sonny and Cher Comedy Hour" was debuted on CBS-TV.
Blogger Nina Notes: the show was funnier after the divorce
1981
A new television cable network called MTV (Music Television) started broadcasting music videos, 24 hours a day in the US. The show begins with the intro "Ladies and gentlemen, Rock and Roll." The first video to be shown was "Video Killed the Radio Star" by the Buggles. 
1984
Jermaine Jackson and Whitney Houston appeared on the television soap opera As the World Turns.
1987
George Michael had #4–"I Want Your Sex"
Whitney Houston's former #1 "I Wanna' Dance With Somebody" was song #9
1992
Elton John's 43rd Adult Contemporary hit was another chart-topper for one of the Rock Era's top superstars–"The One" was #1 for a second week.
1996
MTV launched another channel known as MTV2.
2021
https://www.sfchronicle.com/projects/2021/lgtbq-flags/
Pride flag guide: LGBTQ community's varied flags and who they representIndividual communities within the LGBTQ spectrum have created their own flags as symbols of liberation and, in recent years, variations on the original Gay Pride rainbow flag have become more prominent.www.sfchronicle.com
https://www.cnn.com/2021/07/31/us/gay-games-lgbtq-olympics-trnd/index.html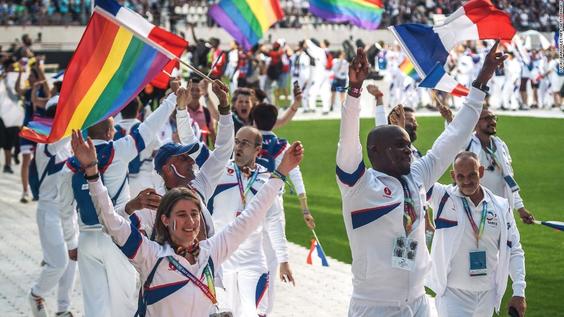 Welcome to the 'Gay Games,' an Olympics alternative, where activism is encouraged and everyone's an athlete – CNNTom Waddell, an athlete in the 1968 Olympics, created the Gay Games first held in 1982 to celebrate LGBTQ inclusion. The Gay Games are still held to this day with the next round scheduled for 2022 in Hong Kong.www.cnn.com
queerbaiting and of no plot significance…. a throw away line
https://www.out.com/film/2021/7/30/jack-whitehall-dwayne-johnson-reflect-gay-jungle-cruise-moment
Jack Whitehall & Dwayne Johnson Reflect on Gay 'Jungle Cruise' MomentThe two stars of Disney's latest adventure film talk about the film's LGBTQ+ inclusion.www.out.com
https://www.news18.com/news/opinion/when-vir-sanghvi-asked-shah-rukh-khan-if-he-was-gay-or-bisexual-4028765.html
When Vir Sanghvi Asked Shah Rukh Khan If He Was Gay or BisexualThough we had never met before, he (SRK) spoke with such breezy confidence that there was no sense in which meeting him for the first time was awkward, writes Vir Sanghvi in his memoir.www.news18.com
https://www.smithsonianmag.com/smithsonian-institution/incredible-story-lesbian-activists-del-martin-and-phyllis-lyon-180978309/
The Incredible Story of Lesbian Activists Del Martin and Phyllis Lyon | At the Smithsonian | Smithsonian Magazine
After first meeting in 1950, the couple was instrumental in founding the nation's first organization for gay womenwww.smithsonianmag.com