July 14, 1967
David Bowie released the single 'Love You Till Tuesday' which failed to reach the charts. Bowie's 1969 showpiece film Love You till Tuesday took its name from the song, which also featured over the opening credits.
1979
Donna Summer had two songs in Billboard's Top Ten, as "Hot Stuff" sat at number 3 and "Bad Girls" was number 1 – for five weeks.  Summer's record label originally wanted her to give the song to Cher.
1986
Madonna was at No.1 on the UK singles chart with her second No.1 'Papa Don't Preach'. Madonna also had the UK No.1 album with 'True Blue'.
1989
Cyndi Lauper released the first close-captioned video, "My First Night Without You."
1990
The Go-Go's rejoined to record a new album, go on tour, write a book and star in a movie

1992
Aretha Franklin sang the U.S. National Anthem at the Democratic National Convention in New York City.

Olivia Newton-John discloses that she has breast cancer. She was later deemed fully recovered until 2018.1993
the U.S. Postal Service unveiled four stamps to mark the 100th anniversary of Broadway. Each illustrated a classic American musical — "Show Boat," "Oklahoma!," "Porgy and Bess" and "My Fair Lady."
2003
Lisa Marie Presley performed her new single "Sinking In" on the "Late Show with David Letterman."
2009
Whitney Houston appeared at the world premiere of her new album, "I Look to You" in London. A healthy-looking Houston appeared briefly on stage after Sony Music chief creative officer Clive Davis played nine tracks from the album. (In February 2012, she was found submerged in the bathtub in her suite in a Los Angeles hotel. A a coroner's report ruled it an accidental drowning, though heart disease and chronic cocaine use were contributing factors.)
2021
https://www.rferl.org/a/funeral-lekso-lashkarava-georgia/31355892.html
Georgian Journalists Honor Colleague Who Died After Being Attacked While Covering LGBT MarchDozens of journalists have gathered to commemorate a Georgian television cameraman who was buried on July 13 after being viciously beaten while covering an LGBT event.www.rferl.org
https://www.rfi.fr/en/europe/20210714-eu-to-start-legal-action-against-hungary-s-anti-lgbt-law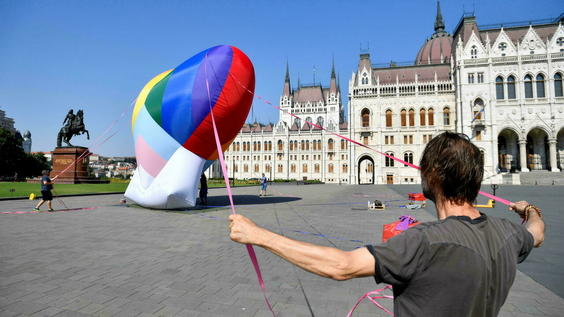 EU to start legal action against Hungary's anti-LGBT lawThe European Commission is preparing a formal legal procedure against Hungary, in response to a law that came into force last week that it considers to be discriminatory towards LGBT people and in vi…www.rfi.fr
https://www.aljazeera.com/news/2021/7/13/china-lgbtq
LGBTQ in China lament 'dark day' after social media crackdown | Censorship News | Al JazeeraAfter student-run accounts erased, China's marginalised LGBTQ community fears worse to come.www.aljazeera.com
https://people.com/sports/tokyo-olympics-record-number-of-lgbtq-athletes-competing/Tokyo Olympics: Record Number of LGBTQ Athletes Competing | PEOPLE.comA record number of openly queer athletes are competing in the Summer Olympic Games in Tokyo, with Team USA making up the majoritypeople.com
https://dailyhive.com/vancouver/vancouver-pride-worldpride
Vancouver eyeing rainbow road to host WorldPride: biggest LGBTQ festival | ListedVancouver Pride Society is hoping to use a successful bid for Canada Pride in 2024 as a stepping stone to host WorldPride.dailyhive.com