Dear Canadians
Police are now stopping white heterosexuals for covid violations
if everyone had just worn a mask and stayed at home
instead of proving how crappy home is or what a self jerk one is
we coulda have been getting to reopen instead of locked down.
Public Health and safety actually does restrict individual rights, we have freedom owing to responsibilities as citizens
not because of war dead.
https://www.cbc.ca/news/canada/ottawa/ottawa-police-interprovincial-crossings-covid-19-1.5992615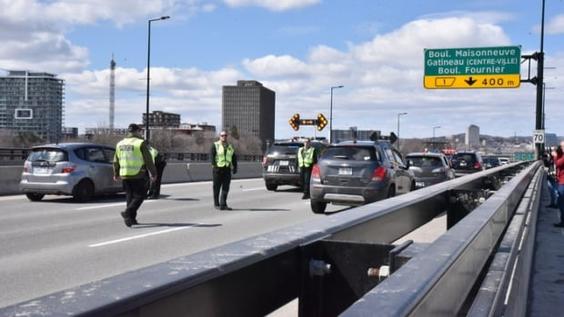 Police will begin stopping Ontario-bound passenger vehicles Monday | CBC NewsOttawa police say they will have officers stationed at all five interprovincial bridges and two ferries linking the Outaouais and Ottawa.www.cbc.ca
To the americans in the room, I am reporting from British Columbia, where we are under just short of lockdown for good reason.
we have trump anti maskers here too.
Alberta, the Texas of Canada put a fence around a church
Ontario, the America of Canada is under a provincial police state
the police have resisted doing covid street stops
mostly because it means stopping white heterosexuals
Quebec, the New Orleans/Louisiana of Canada, aka France, is rioting
and back east the Atlantic bubble has a one year anniversary of a public shooting done by the most prolific of mass and serial body crimes: White Heterosexual Male, middle aged
Canada has yet to have monthly such events, several a year has been a surprise, while the USA is daily shootings like every day is the ok corral, only now with more accurate barrels and ammo in chambers or feeds
or even worse, drones
https://www.ctvnews.ca/canada/revised-police-measures-still-dangerous-to-ontarians-of-colour-advocates-say-1.5391972
Safety at risk for BIPOC in Ontario amid COVID-19 policing measures: advocates | CTV NewsAs the Ontario government walks back their latest measures that gave police the power to stop residents at random, officers can still ticket those they believe are participating in public events or gatherings, which advocates say pose a serious safety concern for people of colour.www.ctvnews.ca
meanwhile, globally
dear colonial nations:
https://www.ctvnews.ca/health/coronavirus/china-russia-using-their-covid-19-vaccines-to-gain-political-influence-experts-say-1.5391422
Coronavirus: China, Russia using their COVID-19 vaccines to gain political influence | CTV NewsChina and Russia have been using their locally produced COVID-19 vaccines to grow their international soft power by giving doses to desperate countries in order to have more political influence over them, experts say.www.ctvnews.ca