we coupled up to enjoy them and forgot the rest of the world and parts of our own nations had lesser rights or none at all.
when you do not have a bigotted belief system eh
https://www.pewresearch.org/fact-tank/2020/09/28/religiously-unaffiliated-people-more-likely-than-those-with-a-religion-to-lean-left-accept-homosexuality/
Religiously unaffiliated people more likely to lean left, accept homosexuality | Pew Research CenterIn most of the 18 countries analyzed, religiously unaffiliated adults were more likely to say homosexuality should be accepted by society.www.pewresearch.org
the content is hate speech, and is the bigger issue over the volume
https://www.cbc.ca/news/canada/british-columbia/vancouver-to-update-noise-bylaw-in-response-to-anti-gay-preachers-in-west-end-1.5920550
Vancouver to update noise bylaw in response to anti-gay preachers in West End | CBC NewsVancouver city councillors will discuss an upgraded version of its municipal noise bylaws in response to a man preaching anti-gay messages with a microphone and amplifier in the West End last summer. www.cbc.ca
https://abcnews.go.com/US/wireStory/southern-baptists-divided-politics-race-lgbtq-policy-76015987
Southern Baptists divided over politics, race, LGBTQ policy – ABC NewsDivisions over race, politics, gender and LGBTQ issues are roiling the Southern Baptist Convention ahead of a meeting of its executive committee next weekabcnews.go.com
https://www.bclocalnews.com/news/fernie-pride-to-look-at-inclusivity-across-elk-valley/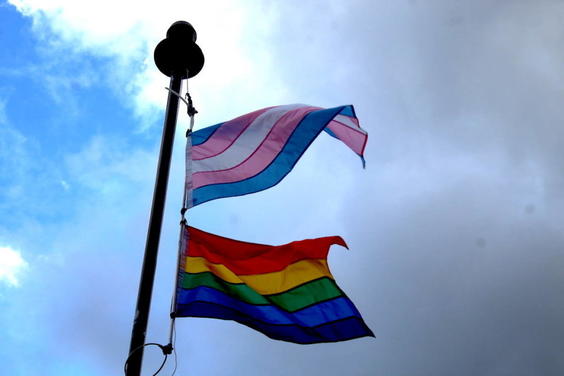 Fernie Pride to look at inclusivity across Elk Valley – BC Local NewsThe local LGBTQ2 society received a grant from the federal government to undertake a community studywww.bclocalnews.com
https://globalnews.ca/news/7409904/canada-can-conversion-therapy-lgbtq2-rights-globally/
Canada's bill to ban conversion therapy could help LGBTQ2 rights globally: UN expert – National | Globalnews.caThe bill aims to ban so-called conversion therapy, which involves forcing a person into therapy against their will.globalnews.ca
for good reasons. religion is oppression and religion is mental illness.
the universe is not fixated on human genitals.
https://www.pewresearch.org/fact-tank/2019/05/24/lesbian-gay-and-bisexual-americans-are-less-religious-than-straight-adults-by-traditional-measures/
LGB Americans less religious than straight adults by some measures | Pew Research CenterGay, lesbian and bisexual adults are less likely than straight adults to affiliate with a religious group or to attend religious services weekly.www.pewresearch.org
funny how not a one of them says that the younger generation valids not hates others
and religion is all about hating those outside of it to being genocidal and oppressive
religion does not determine your social class or education or who you can have sex with, especially yourself.
this is why heterosexual men have enough rights and should not be deciding what rights others have
https://www.modernghana.com/news/1063474/legalize-prostitution-instead-of-lgbt-olumanba.html
Legalize prostitution instead of LGBT—OlumanbaYoung Political Activist Emmanuel Abankwah Kesse otherwise known as Olumanba has urged the government to legalize prostitution instead of gay and lesbianism.www.modernghana.comShare (3)Emoji
https://www.scmp.com/news/world/middle-east/article/3122839/lgbt-people-face-tsunami-hate-turkey-once-haven-tolerance
Turkey's LGBT community face 'tsunami of hate' as tolerance erodesFrom incendiary government minister tweets to censorship of gay characters on TV, a growing animosity is suffocating Turkey's LGBT community.www.scmp.com
https://www.hrw.org/news/2021/02/17/human-rights-body-calls-repeal-jamaicas-anti-lgbt-laws
Human Rights Body Calls for Repeal of Jamaica's Anti-LGBT Laws | Human Rights WatchThe Inter-American Commission on Human Rights today made public a decision calling on Jamaica to repeal laws prohibiting consensual same-sex conduct.www.hrw.org
meanwhile. globally
The DeepMind paper published earlier this month strikes a similar tone. "Given the historical oppression and contemporary challenges faced by queer communities, there is a substantial risk that artificial intelligence (AI) systems will be designed and deployed unfairly for queer individuals," the paper reads.
The paper considers a number of ways AI can be used to target queer people or impact them negatively in areas like free speech, privacy, and online abuse. Another recent study found shortcomings for people who identify as nonbinary when it comes to AI for fitness tech like the Withings smart scale.
On social media platforms, automated content moderation systems can be used to censor content classified as queer, while automated online abuse detection systems are often not trained to protect transgender people from intentional instances of misgendering or "deadnaming."
https://venturebeat.com/2021/02/18/deepmind-researchers-say-ai-poses-a-threat-to-people-who-identify-as-queer/
\Show More
DeepMind researchers say AI poses a threat to people who identify as queer | VentureBeatResearchers say the impact of AI on people who identify as queer is underexplored, which poses a threat to their health and privacy.venturebeat.com